East Asian Studies Program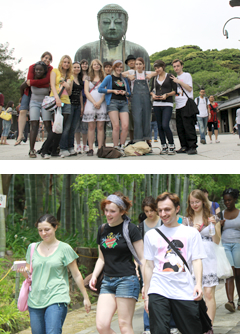 The core of international exchange is developed through the East Asian Studies Program. Through the EAS Program, the faculty and staff of Musashi University are committed to helping students gain intercultural competence, develop their talents, and contribute as global citizens. The fundamental educational philosophy of Musashi University is chi to jissen no yugo (the fusion of knowledge and practice). This philosophy underpins the EAS Program, where we feel students deserve a comprehensive educational experience in and out of the classroom. Simply put, the classroom is not conned to Musashi's campus; it is Tokyo, the Kanto region, Japan.
EAS courses are taught in English and meet twice a week for 90 minutes per session. Each EAS course is worth 4 credits. Students are required to enroll in a minimum of three EAS courses per term.
Lecturers in the East Asian Studies program come from a variety of professional backgrounds and have included individuals from the business, media, and diplomatic elds as well as those from a traditional academic background. Course offerings typically include subjects in the elds of business, economics, foreign policy, history, media studies, politics, religion, and sociology.
EAS Course List (2020) There's a possibility that class schedule may be modified.
EAS Course List (2019) There's a possibility that class schedule may be modified.
Exchange Student Comment

Saskia Scholz, Passau University (Governance & Public Policy) studied at Musashi during Spring Term 2010. Currently student of MA Peace and Conflict Studies at Goethe University Frankfurt Main
All the classes I took within the East Asian Studies Program were valuable experiences and benefited me in my understanding of Japanese politics and society. Inspired by the class 'Japanese Foreign Policy' I later on wrote my BA Thesis in Passau on the topic of Japanese Security Policy under American influence, which was published in a scientific magazine in 2012. This certainly would not have been possible without the many-faceted insight into Japanese foreign policy and diplomacy provided in this class.

Yohan Leclerc, Lyon III University (Japanese Studies) studied at Musashi from 2007 to 2008. Currently working as a translator (mostly for French manga publishers).
The year I spent at Musashi was one of the most instructive and enlightening, not to mention exhilarating, of my life. Although the classes were interesting, covering a wide range of subjects I knew little about, and the teachers and EAS staff were always super friendly and helpful, it was probably ordinary life in the dormitory, the dayto- day interactions with Japanese students, the daily lunches with fellow foreign students, the bonding experience of the field trips that taught me the most about Japanese life and language. Every waking hour was an occasion for learning. It did not stop when we left the classroom.