Overview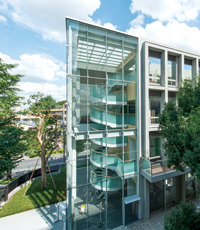 Musashi University was created in 1949 during the postwar reform of the education system. Prior to reform, the university's predecessor, Musashi High School, established itself as an elite, seven-year educational institution. Founded in 1922, Musashi High School was the first seven-year high school in Japan, and its founder Kaichiro Nezu was the former president of Tobu Railway Company and a prominent business leader in the early 20th Century.

Currently, Musashi University has faculties in Economics, Humanities, and Sociology , and School of Liberal Arts and Sciences, and graduate schools of Economics and Humanities. Musashi University is committed to developing responsible and productive citizens who can contribute to a range of sectors in 21st Century Japan.

Musashi's intimate campus environment affords students the opportunity to forge close relationships with classmates and faculty alike. International students receive strong student support services and are integrated in educational and social life of Musashi University.
The university is tucked within a quite, residential area of central Tokyo. Located in Nerima Ward, the campus is within twenty minutes of both Ikebukuro and Shinjuku. The local neighborhood features a small shopping district filled with stores and restaurants that serve the daily needs of the local residents.

Musashi University strives to be innovative and active in developing connections to the international community and is gradually and purposefully expanding its international network.
Exchange relationships are being formed and provide opportunities for student and scholar interaction. The core of this interaction takes place in the East Asian Studies (EAS) program, a program that we feel inspires excellence. Through the EAS Program, the faculty and staff of Musashi University is committed to helping students to develop their talents and to become responsible and productive citizens who can contribute to a range of sectors within the international community.